April 27, 2019 · Doors open at 7:00 pm
Last In Line – The original Dio band
What started as a casual Dio band reunion jam in a Los Angeles rehearsal room in 2011 has grown into a fully-fledged project that has taken on a life of its own. Last In Line, the band, takes its name from the second Dio album released in 1984. Vinny Appice, Jimmy Bain and Vivian Campbell were Ronnie Dio's co-conspirators and co-writers on the "Holy Diver", "Last In Line" and "Sacred Heart" albums – these records have gone on to become part of rock history. During that first jam it was apparent that the chemistry of the original band was very much intact – even after a 27 year hiatus.
The excitement generated by that rediscovery led to a second session, where this time they called in acclaimed vocalist Andrew Freeman. Hearing Andrew's interpretations of the original Dio songs was a revelation and the inspiration to move forward as a band. Over the ensuing years a handful of local LA shows led to a handful of overseas shows in the U.K. and Japan, and eventually to an offer from Frontiers to record a new album of original material.
During the course of 2014 the band wrote and recorded with longtime friend Jeff Pilson as producer. Jeff very much captured the organic crunch of the band and the very best in Andrew's voice and delivery. Last In Line's acclaimed debut album, "Heavy Crown" was released in February 2016, with the singles "Devil In Me" and "Starmaker" leading the charge.
The release was preceded by tragedy, when bassist Jimmy Bain passed away, another great musician taken from us far too soon. Bringing in renowned and long time friend bassist Phil Soussan and keyboardist Erik Norlander the band went on to tour the world playing festivals and packed houses everywhere. Playing the classic Dio tunes and a mix of tracks from "Heavy Crown" fans got to hear the classics and future classic songs.
2017-2018 brings Last In Line into the studio to record "Last In Line II" an even stronger mix of original songs, again produced by Jeff Pilson. Tour dates coming for 2018/2019 in support of the upcoming release on Frontiers Records.
Symbolic
As a heavy-hitting dynamic force hailing from the power/prog metal midst of the San Diego, California music scene, Symbolic combines their melodic energy and excitement for what will be their fifth CD later this year.
Since the first three years of their conception, increasingly impressive efforts helped build a strong following locally and internationally. Opening for well-known national acts such as Adrenaline Mob, Fates Warning, UFO, Brian Wheat (of Tesla fame), PHILM with Dave Lombardo, guitar legend Michael Schenker, Doro Pesch and others, it was no surprise that Symbolic found themselves in very close company of great music notables.
ElectroMagnetic
ProgMathMetal band from San Diego, CA.
RDG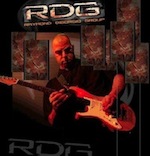 2003 Los Angeles Music Awards Winner "Instrumental Album of the Year"
2003 Los Angeles Music Awards Nominee "Guitarist of the Year"
2003 San Diego Music Awards Nominee "Best Rock Album"